Become a Vendor!
Farmers markets, like the Coit Road Farmers Market, have been the typical way of selling produce for centuries. Today we are enjoying a renewed interest in of this type of market and have become an important part of the local community's food shopping. If you'd like to become a part of our family, please contact us!
Vendors are year-round unless noted.
Annie's Creative Crafts & Things
Gwen offers hand knit items and other creations. gwnejohnson038@gmail.com
Anthony Daria Honey Products
Local honey seller with a wide array of local raw as well as flavored honey. (440)336-0847
---
B & C Farm (Seasonal):
Tomatoes, garlic, habaneros, etc.
---
Dream Glass Arts
Functional Borosilicate glass art! Live Glass Blowing and Glass Blowing classes! Come visit the shope and indulge yourself in custom glass jewelry, ornaments, antique glass and more! Book your lesson today! www.Facebook.com/DreamGlass
---
Duplaga Farm (Seasonal)
Fresh fruits, sweet corn and other vegetables June through September www.facebook.com/duplagafarm
---
Gloria's Garden:
Urban farmer for berries and vegetables on the Coit Market site.
---
Inner City Bakery:
Cupcakes, cookies, brownies, and hot coffee.
---
Lamar's Pies:
Sweet potato and bean pies.
---
Knivhugga:
Live basic knife sharpening at the Coit Road Farmers Market during regular hours by Kevin, formerly Spicehound. Knives and skills classes also available. knivhugga.com
Lettuce Tree Farms
Lettuce Tree Farms is an urban agriculture company in Cleveland Ohio. Founded in 2018 focused on growing amazing microgreens and herbs through the design and construction of Vertical Growing Systems, greenhouse technology, and Shipping Container Farms. https://www.lettucetreefarms.com/buying-guide
Lucky 19 Teas and Spices
Blended and curated handcrafted loose teas from around the world available. No chemicals, pesticides. Now spices added for you cooking creations. https://www.facebook.com/lucky19teas
May's Produce (Seasonal)
August 6th, September 3rd, 24th, October 15th, 22nd, and 29th
---
Miriam's Pierogies:
Assorted pierogi, cornish pastries, prok pies, sausage rounds, soups, potato pancakes, stuffed cabbage, eggplant parmesan and. pork schnitzel…everything freshly homemade.
You can custom order at:
shopper1028@gmail.com
---
N. Pearl Creations
Beautiful home decor hand made in Cleveland Ohio. Pillows, candle sticks, plant stands and more! nanpcreations@gmail.com
Needham Gardens:
Urban farm and food forest on the west side of Cleveland. Grows chemical-free fruits, vegetables, flowers and plants, raises egg laying hens and meat rabbits, and have an apiary with several bee hives. Preserves an ever-changing inventory of local awesome food like applesauce and pickled asparagus. Also sells Ohio-grown organic staple crops like cornmeal and wheat flour from Shagbark Seed and Mill. Like on Facebook:www.facebook.com/needhamgardens.
---
No Wheat, No Worries: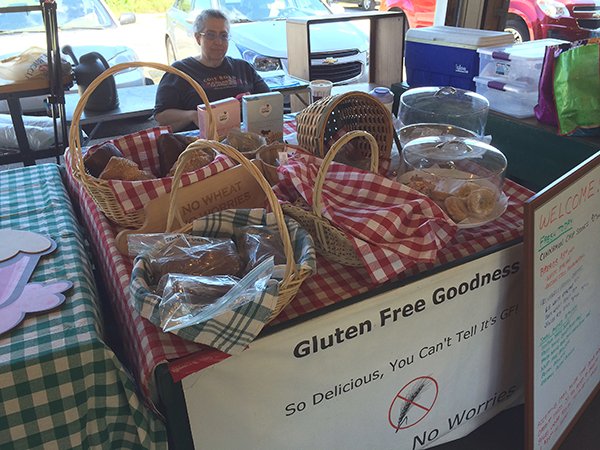 Gluten free baked goods. Best in show at Cuyahoga County Fair.
http://nowheatnoworries.com
North Coast Novelties: All Year round
North Coast Novelties Ltd. specializes in Urban regenerative land management, permaculture design & specialty crop plant breeding.
Find highly acclimated flower, herb, fruit, vegetable seed and plant starts at our booth year-round! House plants all year round and mainly during winter, produce and transplants in the spring and summer! We test, research, cultivate and produce our seed and plant stock all right here in Cleveland, Ohio. ~ Visit our website for more info and to order your zone 5/6 seeds. www.GreatRiverSeeds.com
Saturdays 8-1
---
Rahamatu:
Herbs, spices, and such focusing on health.
Social Phenom
Mamie sells flavored popcorn to support her non-profit. https://www.facebook.com/theSocialPhenom/
---
Tim's Urban Oasis:
Featuring jams, jellies, hot sauces, eggs, and fresh salad vegetables.
---
The Farm at Chatham Lea (Winter):
Fresh baked goods including breads, pastries and cookies. Eric uses only high-quality ingredients including Italian bread flour, organic cane sugar, organic all-purpose flour and local milk, butter and eggs.
Text Eric at 440-429-9385.
---
Will Norris – Tomato Guys in Old Brooklyn: (Occasional)
Naturally grown heirloom tomatoes and artisanal products.
Thetomatoguyscle@gmail.com.
---
Rustbelt Roasters: (Winter)
Wonderful fair trade coffee roasted in small batches in an antique Italian roaster over a hickory fire. Fresh pourover coffee is also available.
https://www.rustbeltroastery.com/
rustbeltroastery@gmail.com
---
---
---